Top 10 Things to Do in Copenhagen
There wasn't a single day that we lived there that I didn't wake up and feel as though I was still dreaming. Every color, every flower, every fragrance, every sight and sound... and all the lovely people we met in between made it a dream world. Copenhagen is a city of exquisite beauty and possesses a melodic charm that made me believe heaven could exist on earth... even during those long, dark winters (just an excuse to light a fire and get cozy!)
When a friend of mine asked what her parents shouldn't miss when they go to Copenhagen in a few weeks, I started making a list.
I could have stayed up all night listing out all the places I would go if I had 24 hours in Copenhagen. I wouldn't sleep. And I'd hold my Godson... and then I'd get started on these top 10 things to do in Copenhagen...
1. Tivoli : No trip to Copenhagen would be complete without a visit to the gardens and amusement park that inspired Walt Disney to build his namesake. Tea at Nimb just takes it so far over the top, you might just die of happiness!
These Fries are the best!
& the sandwiches are Delish!
2. Torvehallerne : If you love to experience local culture and food, this market has a little bit of everything... chocolates, flowers, oh... and those rosemary fries that are worth the plane ticket!
3. Royal Copenhagen: The birthplace of the STILL hand painted blue fluted design is more than just a store. It's an aspirational journey through the genius behind this design classic that opened its first shop right in Copenhagen in 1780.
4. The Royal Smushi Cafe next door to the Royal Copenhagen is a great place to sit, sip, and fall in love with the Royal Copenhagen dishes and cups just a little more. Order a hindebaersnitter, a pastry that's a little like a homemade pop tart and 100% DIVINE.
5. Stop and smell the Roses. Really. Everywhere you go there will be florists brimming with beautiful and fragrant flowers. Even if you are just visiting for a day, stop in and enjoy! (The florist outside the back entrance to Magasin always has great blooms!)
6. Cafe Europa : The corner just by the famous Stork Fountain hosts the most relaxing breakfasts, gives reason to eat a hearty lunch, and is packed out for dinner. The line of famous guests keeps us all coming back, though.
7. Kongens Have, or the King's Garden is an absolute must. Not only is it one of the most photogenic places in Copenhagen, it's a great place to picnic, stroll, and the castle is pretty amazing to tour, too.
8. Nyhavn :: There's a reason this tops every tourist list. Waffle cones, boats, Hans Christen Andersen's home... you haven't been to Copenhagen if you don't come here!
10. Cafe Norden: Brunch here is to die for! Order the largest platter and the burger with the homemade potatoes and share with your table buddy. Their orange juice and iced coffees are just icing on the cake!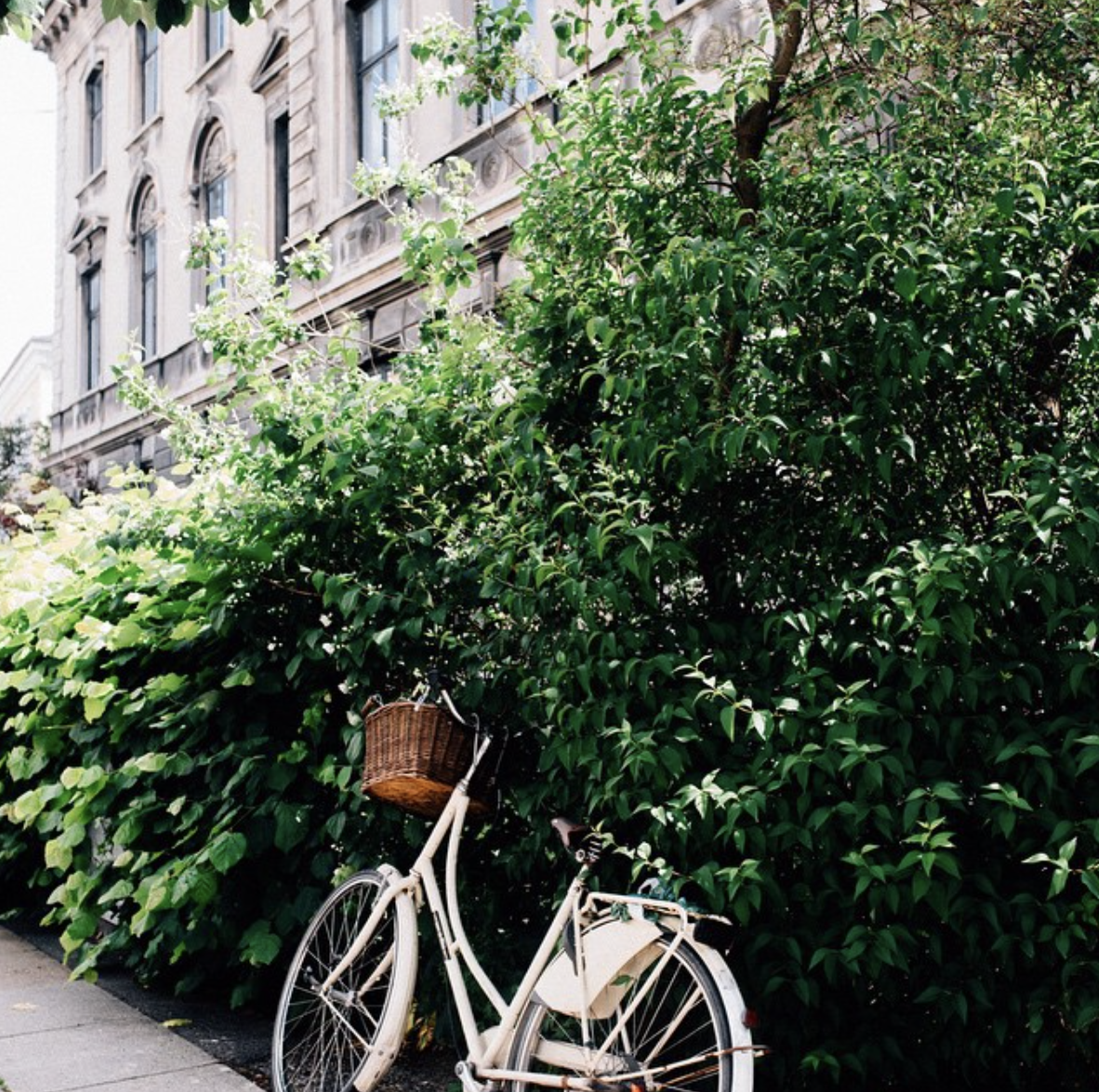 **Grab a bike and go see the city like a local! There's nothing quite like riding a bike in Copenhagen and if you are worried it's been too long... just go for it. It really is true. It comes back to you after a few wobbly minutes. Then ride your bike like you would drive a car... except in the bike lane! Enjoy!
oh, and Shop at Illums Bolighus and Hay. I'd eat muesli rolls from the bakery at the corner of Illum while I shop. I'd visit the Rundetårn (The Round Tower), watch the changing of the guards at Amalienborg (The Queen's castle), and definitely go to the Botanical Gardens.